Real Deals Gift Guide - Best DIY Gifts for Christmas 2022
Tis the season to be jolly but if you're freaking out, wondering "Ho ho how am I going to think of a gift?", our Real Deals Christmas Offers are swooping in to take the stress out of Christmas shopping. This is the year where socks and slippers are banished from beneath the Christmas tree and the "What could it be?" act gets real. Here is our Christmas Gift Guide, guaranteed to keep you on the nice list this Christmas. 
For the Maker
If you have a DIY-er in your family, it's time to upgrade their kit with some precision equipment to ensure their projects have a professional finish. All projects start with measurements and layout – gift the Crescent Lufkin 2-in-1 Extendable Square, the Komelon Extreme Stand Out Pocket Tape 8M and the Stanley Fatmax Pro Level Pack to make sure they have the tools to deliver top-class results.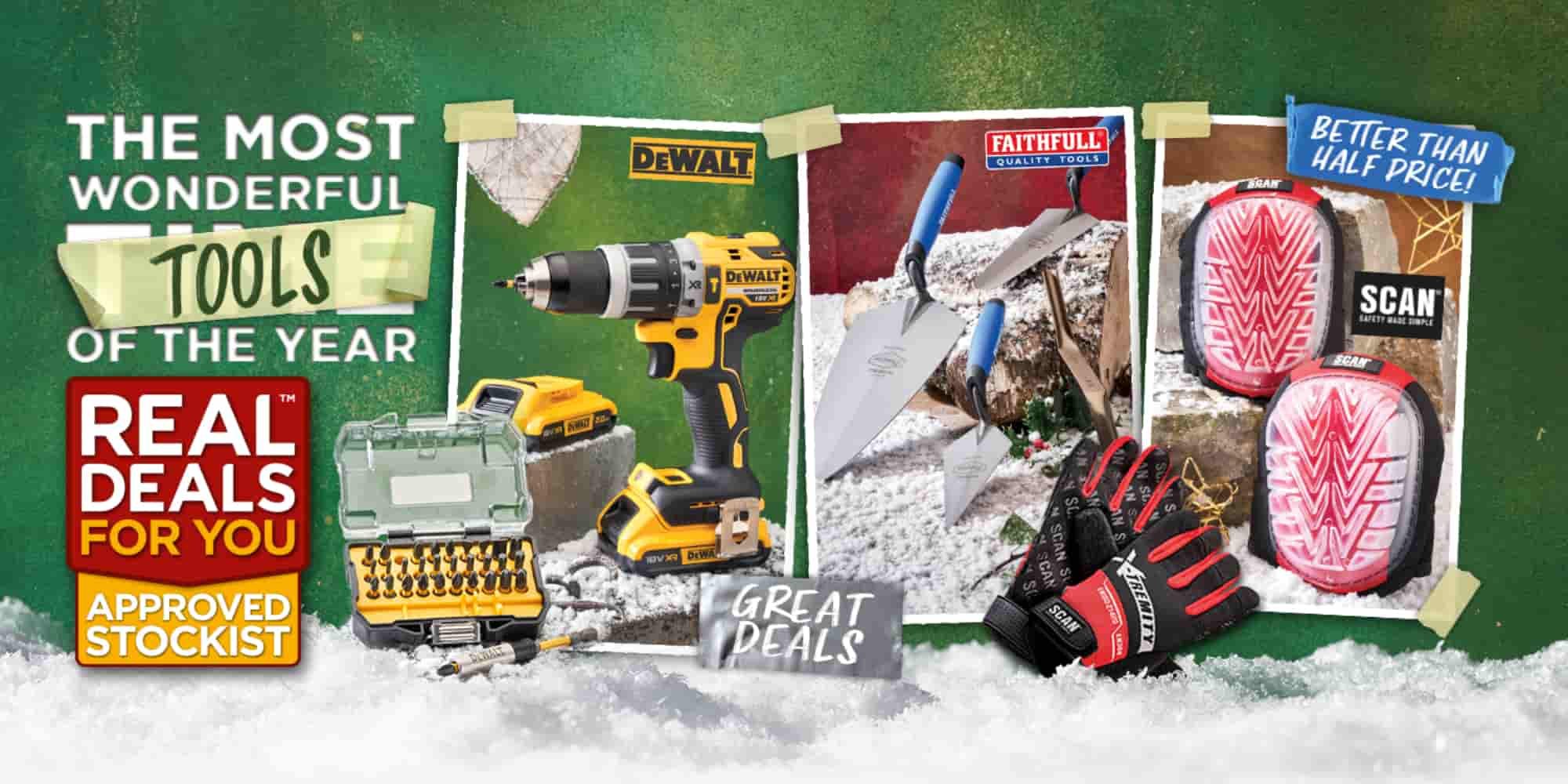 Power tool Presents
Gadget gifts come and go but quality power tools last a lifetime. Leave the novelty nonsense behind and give a gift that's guaranteed to be used all year round. The Milwaukee Brushless Combi Drill 18v 5Ah is an essential piece of kit. Compact and powerful, it can take on wood, plastic, masonry, concrete and steel and its keyless chuck and long-lasting lithium-ion battery make it a joy to use. The Einhell Multitool 200 CE is an all-rounder when it comes to DIY. With an accessory kit and a shim adaptor for cordless machine use included, this is the power tool gift that keeps on giving.
Wood you believe
Let this holiday season be the start of something beautiful, usher in a new hobby with the gift of a Faithfull Carpenter Tool Set (in a fancy wooden box) and an Irwin Marples M373 Chisel Set 8 Piece– everything they need to fall in love with woodwork! Handy tools like Irwin Quick Grip 12" Grips and the Bahco Hacksaw & Junior Saw Pack are always crowdpleasers when it comes to working with wood.
Make it magical again
For friends and family who have caught the upcycling bug, there can be no better Christmas present than tools to help them reimagine, reuse and revamp a discarded object into a piece of beauty once more. Who would have thought that unwrapping the Metabo 200W Palm Sander or the Hikoki 4.5" Mini Grinder could bring so much joy?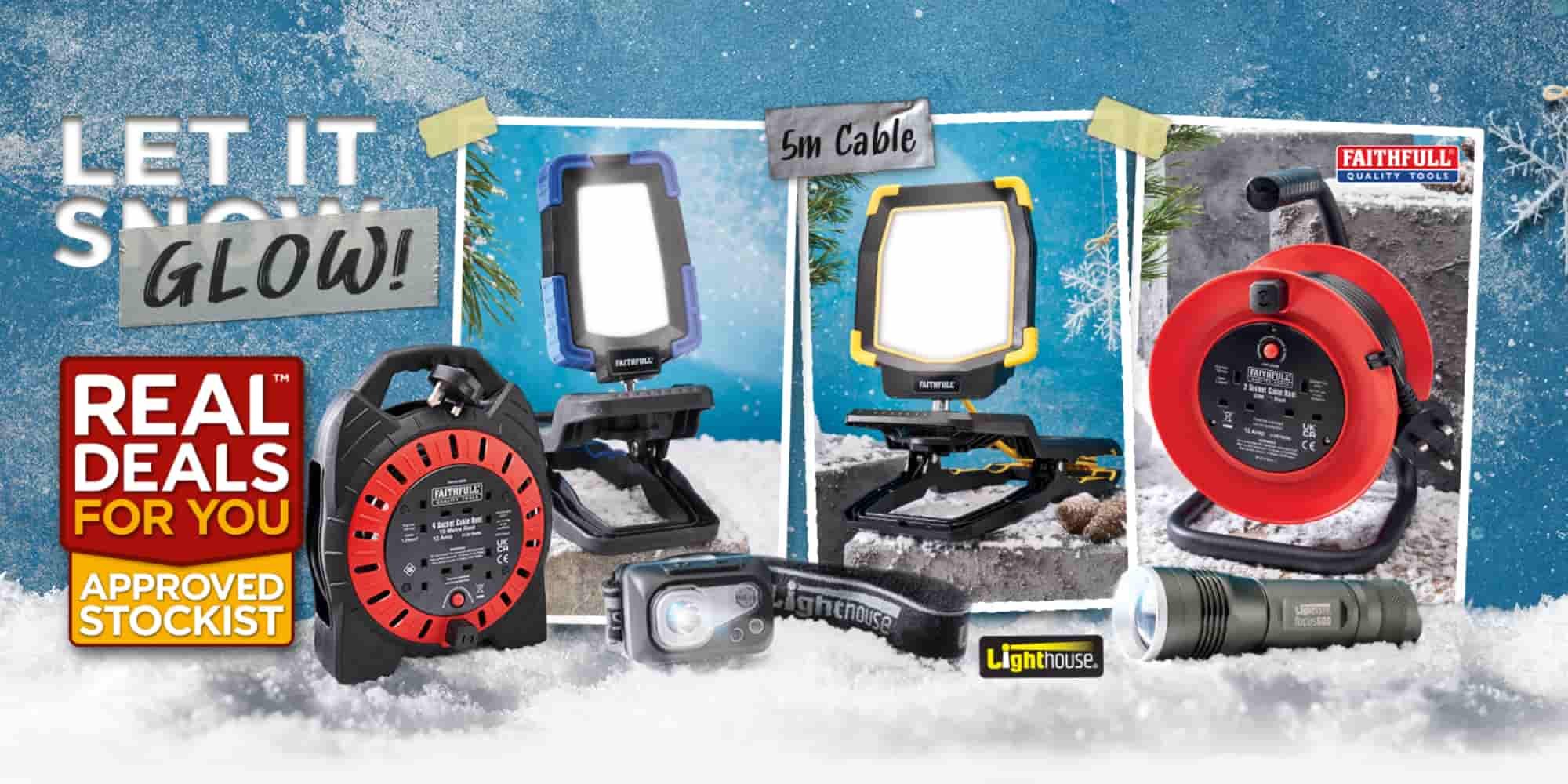 Let it Glow
Far from gimmicky gadgets, torches and lights are among the most practical presents you can give. The Lighthouse Elite 300 Lumen Head Light is a high performance, water resistant LED headtorch with multiple light modes and up to 5 hours runtime. The Lighthouse 50 Lumen Mini Lamp is a nifty rechargeable torch with a clever hanging hook and magnetic base. Go large and enjoy huge savings on the Faithfull LED Clip Light 40W 110V. Rechargeable, with a power bank function, a clamping stand and a 360 degree swivel head, this is the light to rule them all.
All I Want for Christmas is Shoe
A far cry from Louboutins but arguably just as desirable, DeWalt Extreme Safety Boots make a fantastic Christmas gift. A perfect addition to every workwear wardrobe, these steel toe-capped boots with leather uppers are made to last. Scan Viper SBP Safety Boots are a great value option when it comes to protective footwear. Slip resistant and cushioned soles make them a great choice where comfort is key.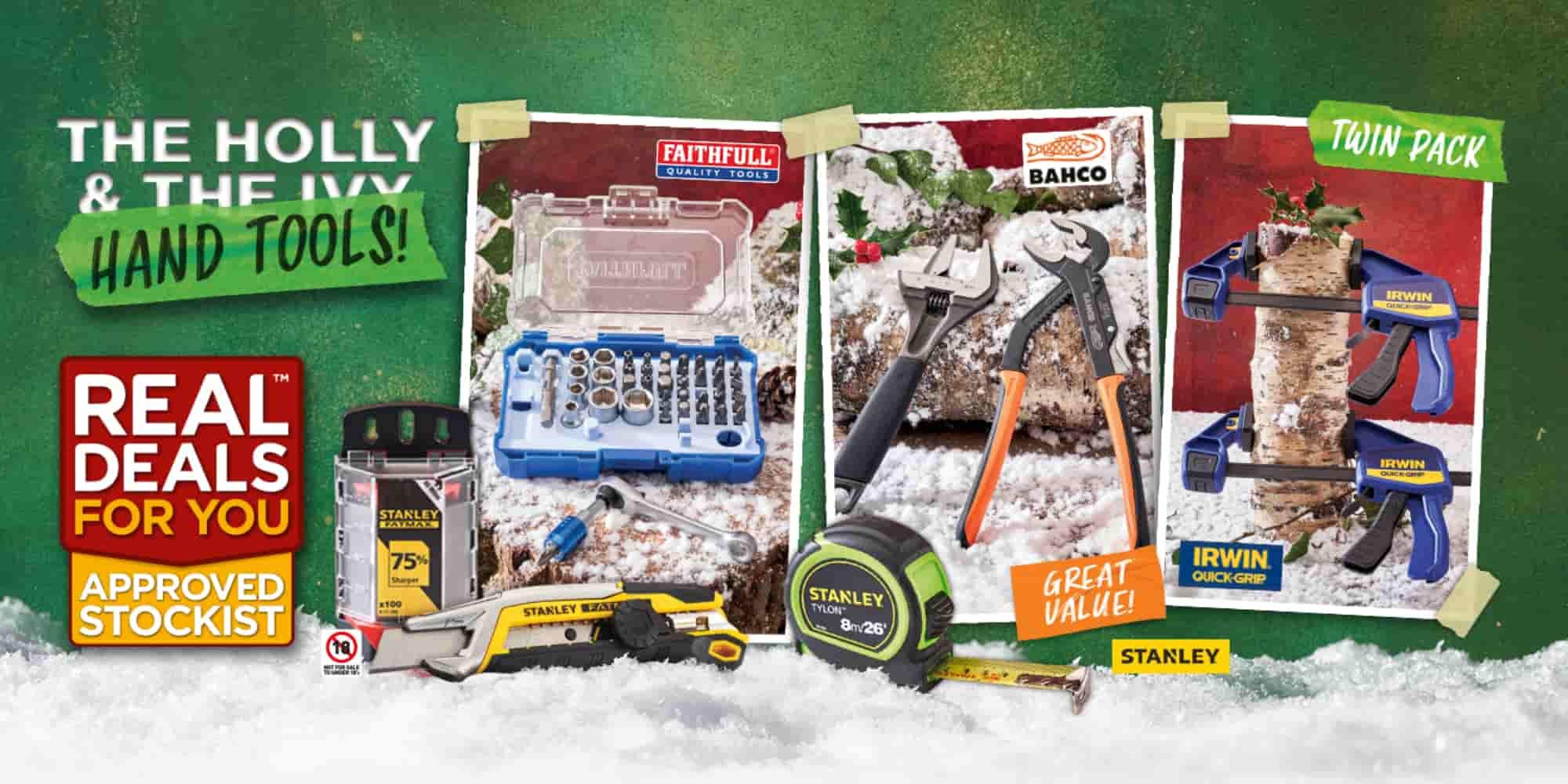 Stocking Fillers
Our Real Deals Christmas Offers are jampacked with great Christmas stocking fillers. Scan Work Gloves with Touchscreen Function or Comfort Gel Knee Pads make working a whole lot easier. The DeWalt 25 Piece Drill Drive Set means they'll never be stuck for the right sized bit. A mechanical revelation, the Faithfull Ratchet Spanner Set is an awesome bit of kit. Marking out is made so much easier with the Faithfull Long Reach Pencil & Marking Set.
So that's a small selection of the tools and treats available in our Real Deals Christmas Offers. Drop by the shop to pick up the catalogue or view the catalogue online and discover the perfect Christmas gift for the DIY-er in your life!