Accent Chairs – A Guide to Stylish Seating
 You're happy with your colour scheme, your furniture choices, your accessories but something is missing – is that extra zing lacking and you're just not happy to sign off on the décor? An accent chair could be the answer to your design dilemma. A great way to add the elusive element that ties a design scheme together, a swoon-worthy accent chair can be both functional and decorative, imbued with the design appeal that seals the deal when it comes to interior design success.
But first of all… we hear of occasional chairs, accent chairs and statement chairs but what are they and what's the difference between them? An occasional chair is a chair that's not for regular use, it's not used as often as a sofa for example. An accent chair is an occasional chair that adds a pop of colour, a different pattern or material – it's eye-catching for all the right reasons. A statement chair stands out from the rest of the furniture in the room in the best way, it's striking and has serious visual appeal. When it comes to any of these chairs, there's really only one important thing to bear in mind and that is that you love it!
Accent chairs work wonders in living rooms, bedrooms and offices but can equally have an impact in hallways, alcoves and open plan spaces. As well as adding extra seating they provide colour, striking design and act as a focal point that draws the eye and pleases the senses. For an accent chair to work successfully in a sitting room or living room it needs to stand out from the rest of the furniture in the room. Choose where your accent chair is going to go, this allows you to decide what size of chair you require and what it's purpose will be. An accent chair used to rejuvenate a dull corner may act as a cosy seat to curl up and enjoy a bestseller or a serene spot to scroll through your social media. The Axis Swivel Occasional Chair has a striking luxurious design that supports and envelops, available in rich denim blue or light grey this chair practically gives hugs.
If an injection of colour is what your room needs to make its elements sing, the Manhattan Velvet Accent Chair range has a lot to offer. A button-backed velvet chair with tapered wooden legs, the Manhattan chair merges charming design with gorgeous texture and striking colour – everything you want from an accent chair. Choose soft pink to bring warmth to grey interiors, pair vivid green with neutral beiges to add vitality and pizazz or introduce grey velvet to compliment crisp whites. An accent chair doesn't need to be large to make a big statement – the rich ruby tones of the compact Madrid Velvet Chair make it a strikingly luxe addition to any space.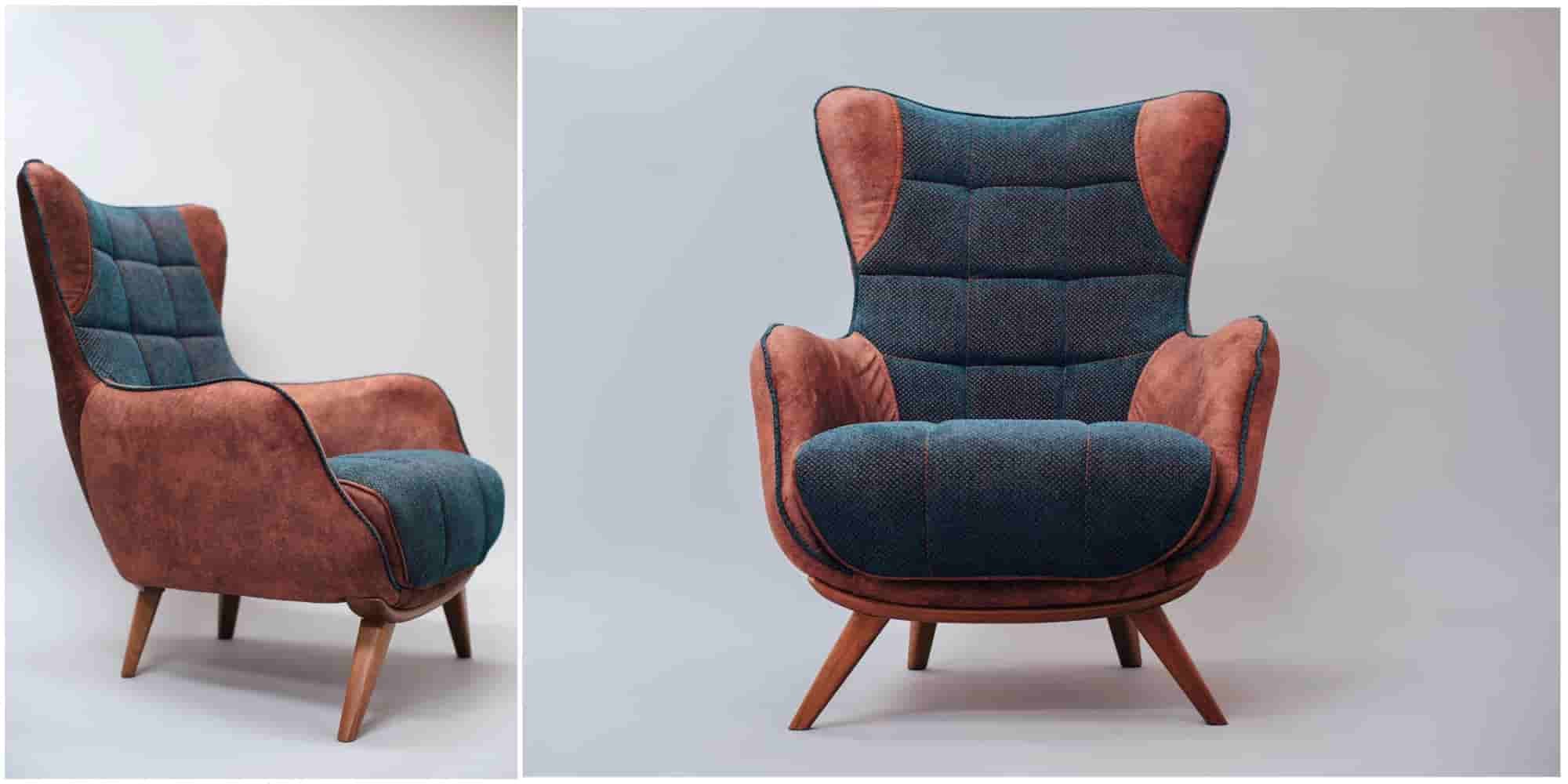 Choosing the colour of your accent chair can seem daunting but there are no hard and fast rules – clashing colours can add a punchy quirkiness to an interior, using complementary colours can create a lovely contrast or choosing a brighter or darker shade of an existing colour in your scheme can create a cohesive look. Red will always be striking, yellows and oranges work wonderfully against dark blues and emerald greens. Greys, creams, beiges and whites are versatile neutrals that can adopt almost any colour as a contrasting or matching hue. The main rule to live by here is to make sure that the colour combination makes you smile, it's your home so your happiness is key.
Mustard is deinitely among the favourite colours when it comes to accent chairs, there's just something truly joyful about a zesty splash of yellow and it's a surprisingly versatile shade that compliments rich jewel tomes just as much as it brings neutral tones to life. Ideal for enhancing the opulent luxury of a navy, green or burgundy sofa, mustard also adds vitality to grey, brown, black, beige or cream sofas. The Kayla Velvet Accent Chair in mustard is bright and cheerful as is the Taylor Yellow Velvet Accent Chair.
Accent chairs can be functional and decorative in equal measure, traditional designs have been revitalised with bold colours, statement features and plush materials to elevate them to statement pieces in their own right. Take the Canto Armchair with Footstool, available in mustard or blush pink in an unusual corduroy material or in charcoal grey velvet, this wingback chair and footstool embellish any interior with luxury and joy. Another accent chair worth mentioning is the Dante Wingback Armchair, similar in style to the Canto Armchair, the Dante Wingback Armchair is upholstered in a delectable cobalt blue velvet, has button backed tufting and a striking high back – this accent chair oozes sophistication.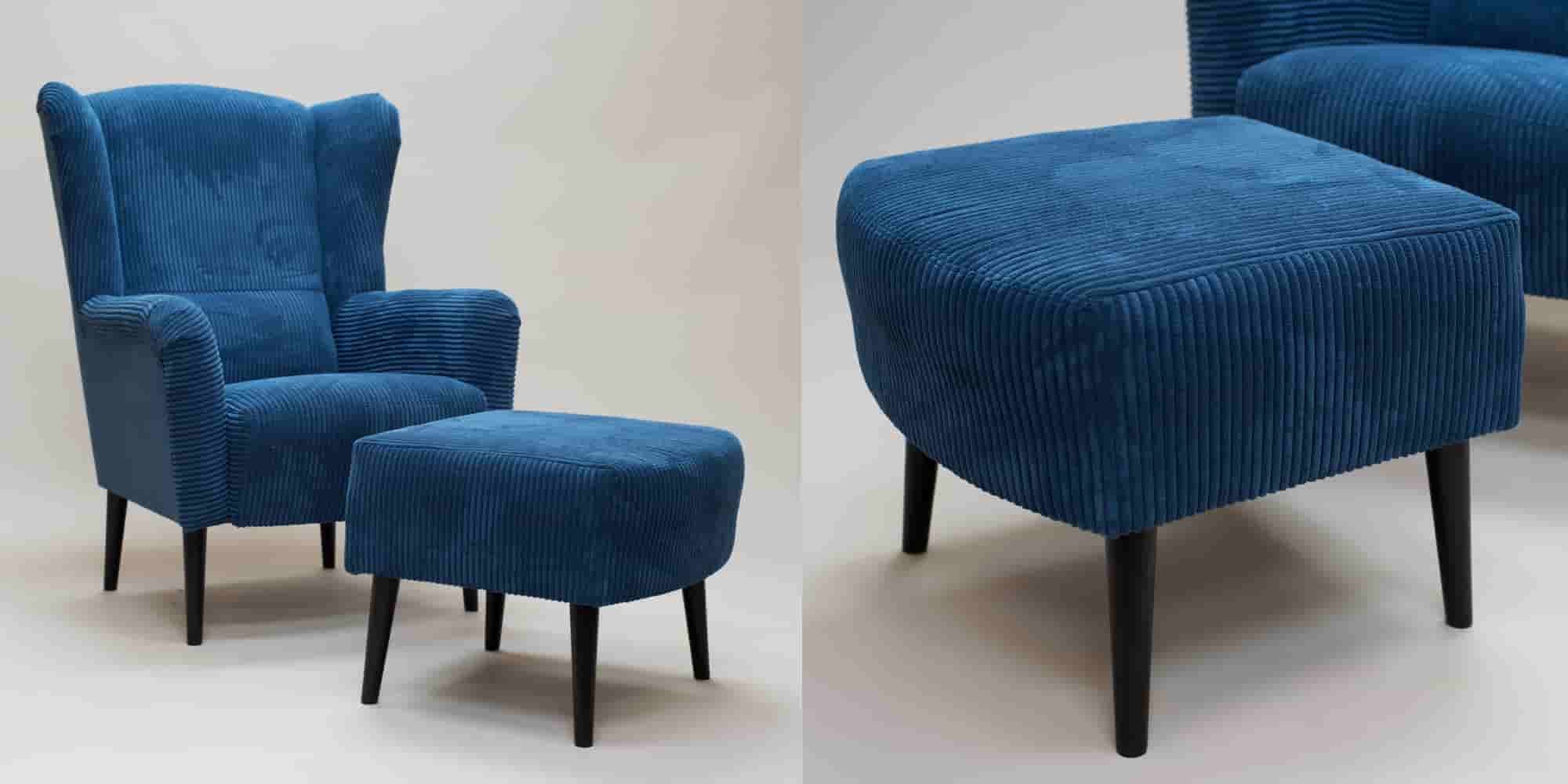 Armchairs as accent chairs deliver comfort and class, unmistakably chic but also a practical piece of furniture ideal for a comfortable chat with friends or a relaxing spot to unwind. Elegant and rich, the Cindy Velvet Accent Chair has enticingly plump cushions and its intense teal colour complimented by gold legs deliver refined glamour. Striking in structure, the Tivoli Armchair bestows a dazzling design on whatever space it inhabits. Its box form and deep seat alongside its engaging hue of blue make it an eye-catching piece, capable of elevating a room from bland to brilliant.
An accent chair that is both captivating and comfortable as well as iconic in form can enhance the design credentials of a room and solidify it as confident and unique. The Manyas Accent Chair has these credentials in abundance. A sleek synthesis of the acclaimed egg chair and a contemporary wingback chair, the Manyas Accent Chair makes a sensational statement. Its curved body, supported by tapered wood legs and base, invites ardour and awe. Available in anthracite grey, beige and brown, red and denim and terracotta colour options, there is a Manyas Chair to suit most styles.
Modern living requires interiors and indeed furniture to work hard and sometimes double-up when it comes to form and function. Accent chairs manage to achieve that objective. Consider a bedroom that doubles as an office – the accent chair that works as a decorative splash of colour can double as a desk chair. The undulating shape of the Celine Ribbon Chair offers comfort and support, choose yellow or orange for a vibrant hit of colour or go classic with crisp white. The Cosmos Dining Chair is also a multitasking piece of furniture available in yellow, mink or green, ideal for when your dining table transforms to a desk.
Now, armed with an abundance of knowledge on accent chairs, hopefully you have your ideal accent chair in mind. Visit our showroom or browse online at clarkesalbany.ie and make sure your dream chair becomes part of real life in your home.