Tips For Choosing The Perfect Sofa For your Living Room
While your kitchen may be the heart of your home, your sofa is most definitely the centre of your sanctuary. As such, it needs to impress and invite. Choosing the correct couch to suit your space, your needs and your budget can sometimes be a daunting task. Spending some time considering what features and details your sofa needs to provide means that you'll make the right choice and choose a sofa that's exactly right for you.
In the search for the perfect sofa, a really important question to ask yourself is "What do I want from my sofa?" Is it a place to lounge? A place to watch TV? Seating for all the family? Somewhere to entertain guests? A visually striking interior design element? An extra bed? Your sofa can be one or all of the above but knowing what you want from your sofa allows you to narrow down the vast variety and move closer to finding the sofa that ticks all your boxes. Here are some things to think about in the search for your sofa…
Made to Measure
First things first – measure up! Knowing the dimensions of the space where your sofa is destined to live allows you to consider what size of sofa can be accommodated. Measure the depth of space (front to back) available as well as the width (side to side). Some sofas are deeper than others and could make a room look cramped if the proportions of the sofa are too big relative to the room. Although your sofa may be the feature of your space, it should compliment rather than dominate your space. A great way to judge how much space a sofa will take up is to mark out the sofa's dimensions on the floor with newspaper or masking tape. This also allows you to make sure there is enough room to walk around the sofa and also identify if it gets in the way of doors opening and closing.
Style me up
Such a broad choice of styles exist in the world of sofas – some designs lean to the more traditional while others have contemporary twists. Mid-century styles are characterized by clean lines, refined rectangular cushions, a low profile and splayed legs. Great for making a style statement, this style of sofa oozes sophistication. The Rupert Velvet Sofa is a gorgeous example of mid-century styling and makes a luxurious addition to an interior scheme. Styles much more focused on indulgent comfort feature abundant cushioning in seats, armrests and backrests. Robust and impressive in appearance, the more traditional style of sofas such as the Brooklyn Sofa or the Parker Sofa, create an appealing sense of comfort.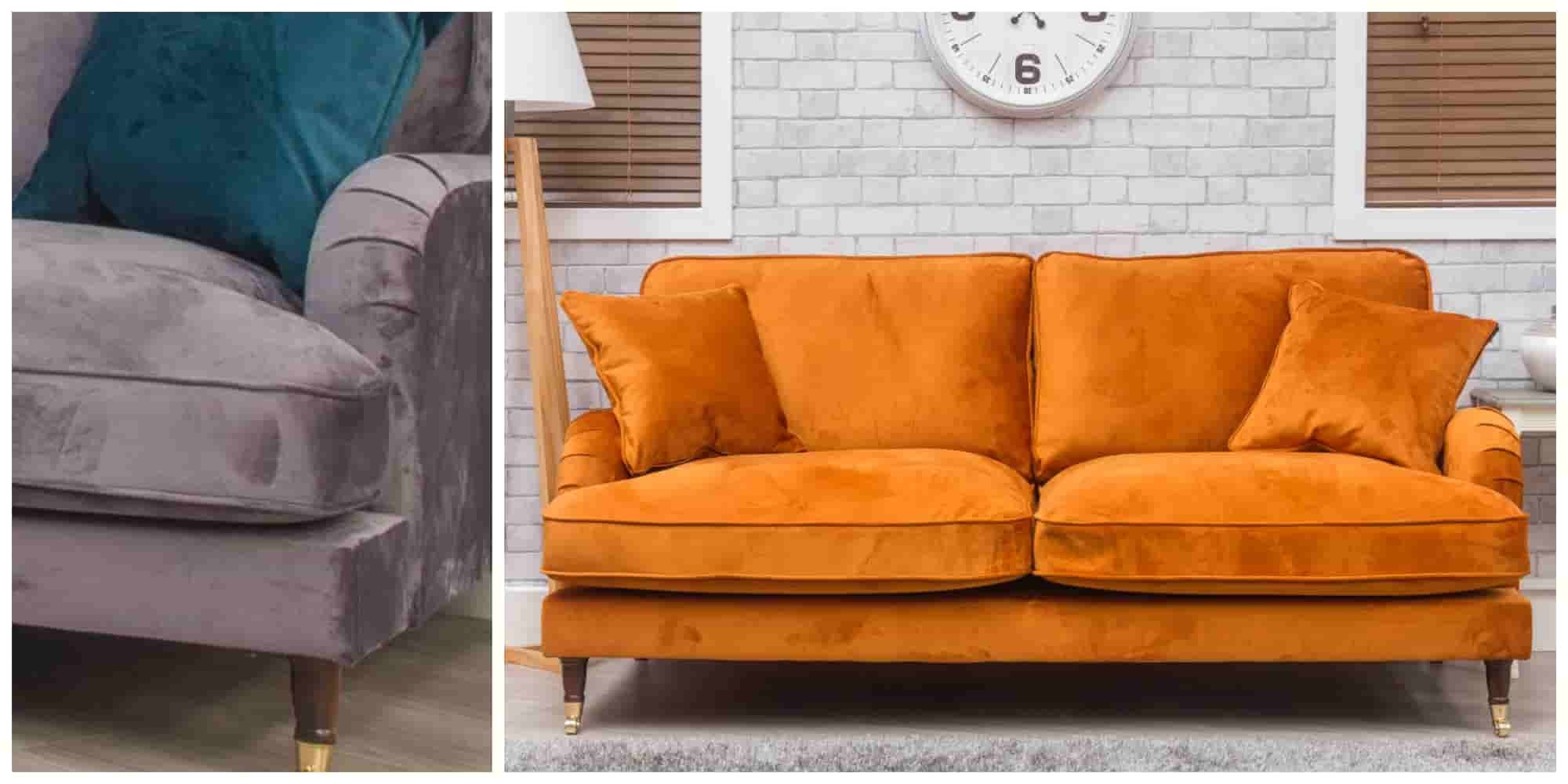 Material World
Also up for consideration is which material you would like your sofa to be? Fabric, leather, velvet – all contribute to a different character and mood. Fabric, in particular woven fabrics, are especially durable and remain a firm favourite for sofas that are destined to have to stand up to everyday use. Choosing a fabric sofa is also a way to introduce a soft, tactile element to your room, mellowing the visual impact of hard surfaces like tiles and creating a cosy ambience. 
Leather sofas really do exude luxury. This supple natural material is durable and strong and will soften and crease with age, gaining even more character. Easy to clean (just wipe with a damp cloth) and resistant to spills, leather holds up well to daily use. Full leather sofas can be expensive but the advantage of their longevity generally outweighs the cost. A half-leather sofa (the "front" of the sofa is upholstered in leather while the hidden back is upholstered in an alternative fabric) may be a more financially viable option. 
Velvet continues to be a top choice in the world of sofas and no wonder really – soft, sumptuous and rich in colour, velvet sofas radiate a lush grandeur. Uncompromising when it comes to spills, velvet does require extra care for it to stay looking its best.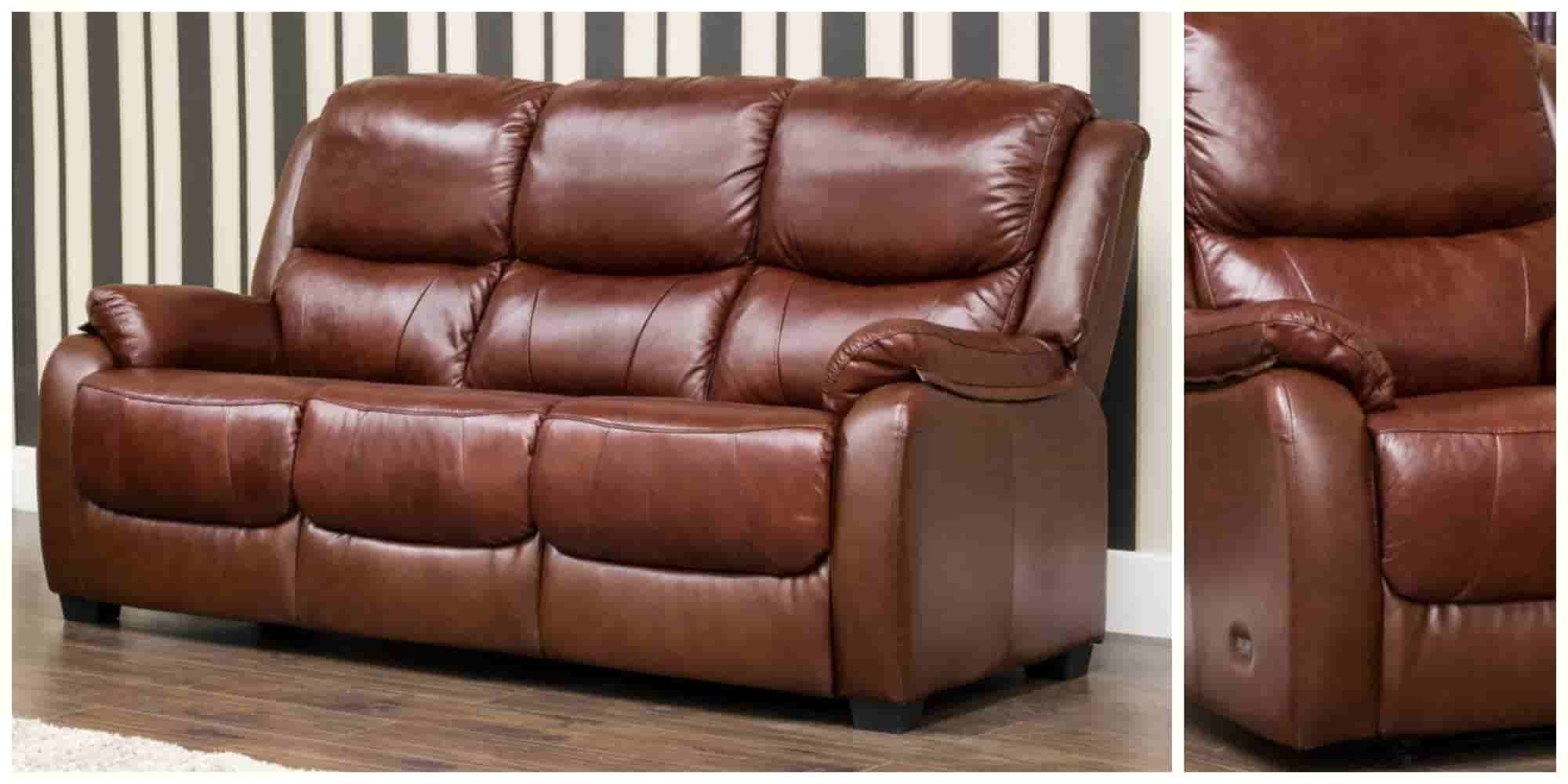 Complete with Colour
As the central element of your interior, your sofa commands attention. Substantial in size, it takes up a considerable proportion of both the physical space and is the primary object that attracts the eye. A substantial element of its power to please the eye rests with whether its colour compliments and enhances the interior scheme as a whole. In short, the colour of a sofa can make or break a room's design. Decide if you want your sofa to be the showpiece of the room or whether you'd prefer it to play a supporting role. If you're buying a sofa for an already decorated room, thinking of the colours already in the room can really help you to decide what colour you'd like your sofa to be. Greys can vary from pale to charcoal colours and can be sophisticated, cool and calming. Earthy colours like creams, beiges and browns are neutral colours, easy to decorate around. Vibrant pops of colour like mustard or orange or deep jewel tones such a navy or emerald are surprisingly versatile and make for confident and invigorating spaces. Remember that light colours are harder to maintain than their more forgiving dark counterparts ,so if your sofa will be used by kids and pets, opting for a darker shade may be a wiser option.
Getting in shape
As mentioned earlier, the size of your sofa relative to your room matters, well so does the shape. 3 seater sofas, 2 seater sofas, corner or sectional sofas and modular sofas all impact differently on the overall look of your space. 3 seater sofas are an abidingly popular choice – offering space to curl up or chill out. For smaller spaces a 2 seater may be more appropriate. Space-saving and neat, 2 seater sofas can be ideal for snugs, apartments, offices and bedrooms. Sometimes, the positioning of furniture can block off valuable space – so often corners are relegated to negative voids that do no more than house a side table or a lamp. If you're seeking to maximise the seating potential of your room, consider a corner sofa or sectional sofa and exploit the potential of that squandered corner. A corner sofa like the Marlo Corner Sofa optimises a room's seating capacity and prioritises comfort, enabling stretching out as well as sitting down. Combinations of 3 seater, 2 seater, corner sofa and armchairs can also be an effective way to furnish a room and make it function to its best. Sofas positioned opposite each other invite conversation, a suite positioned around the focal point of a fireplace or television direct the gaze. Grouped innovatively, sofas and armchairs can create a living space withing an open plan scheme.
Benefits of Bespoke
Sometimes, what's up for grabs on the showroom floor just isn't capable of fulfilling your requirements. Thankfully, bespoke options are available in the form of a modular sofa. Built of components known as "modules", a modular sofa allows you to create a sofa that satisfies your specifications. Corner elements, recliners, a chaise, drinks consoles and seat modules can be combined and arranged to create the sofa of your dreams. The Urban Modular Sofa and the Infinity Modular Sofa offer an abundance of choice and deliver refined style.
Laid Back Lounging
To further enhance the comfort factor of your furniture, consider a recliner sofa. With the pull of a handle or press of a button, transition from sitting to reclining and hit peak relaxation. Choose from a manual recliner sofa such as the Lynx Recliner Sofa or go electric and choose the Cadiz Power Recliner Sofa and put those feet up at the push of a button. Surprisingly, recliner sofas offer more benefits that just relaxation – they are reputed to reduce back pain, improve circulation and reduce stress. A sofa with health benefits – who knew?!
Snooze Function
For a piece of furniture that is hardworking and multitasking, look no further than a sofa bed. Hidden beneath the façade of a sofa regular in appearance is the secret of soothing slumber. Sofa beds are ingeniously designed to provide comfort by day and serenity at night, providing you with extra sleeping capacity for guests and sleepovers, hidden from sight until required. Sofa beds such as the Tivoli Sofa Bed utilize the simple-to-use ClicClac mechanism while the more traditional-looking Asti Sofa Bed and Kirkby Sofa Bed pull out to convert from sofa to bed. 
Store More
An even more exciting enhancement of the multifunctionality of the sofa bed is the introduction of the corner sofa bed with storage. Expertly disguised as a conventional corner sofa, the chaise element of corner sofa beds such as the Napoli Corner Sofa Bed and the Vigo Corner Sofa Bed lifts to reveal a cavity with generous storage. More than capable of storing a duvet and pillows, these corner sofa beds with storage offer many more perks than purely providing a place to sit.
Finishing Touches
Perfect sofa in situ, interior improved, curling up and chilling out on the cards, don't forget that your sofa situation can be further improved with some simple styling. Add some accent cushions and a luxury throw to coordinate your sofa with your room's décor – these are the little touches that pull a look together and make sure your sofa is the star of the show!