Dining Sets: Our Top Picks
The dining table is a lot of things – the centre of family meals, a space to entertain, a venue for coffee and chats, a homework station, a working-from-home office – but there's one thing you don't want it to be and that's boring! There's no reason the social hub of the home can't be a style statement in its own right. We've selected our top dining sets, read on to find out more…
Chantelle Dining Set
A true statement piece, the Chantelle Dining Set is resoundingly impressive. Its sculptural plinth sits atop a highly polished metal base and supports a glossy tempered glass top. A central leaf allows the table to extend when more seating than usual is required. Cantilevered cushioned chairs are upholstered in easy-to-clean PU leather. This captivating set may look like it needs to be handled with care but actually, its tempered glass top is well able to stand up to the treatment a family dining table experiences. The Chantelle Collection is extensive, with multiple dining set options including extendable tables, compact tables, benches and even a bar table option. A matching coffee table and console table also feature, allowing you to create a cohesive scheme and spread the joy of the chic Chantelle design even further. Captivating and ultra-modern, the Chantelle Dining Set is guaranteed to set the style stakes high.
Marissa Modern Round Dining Set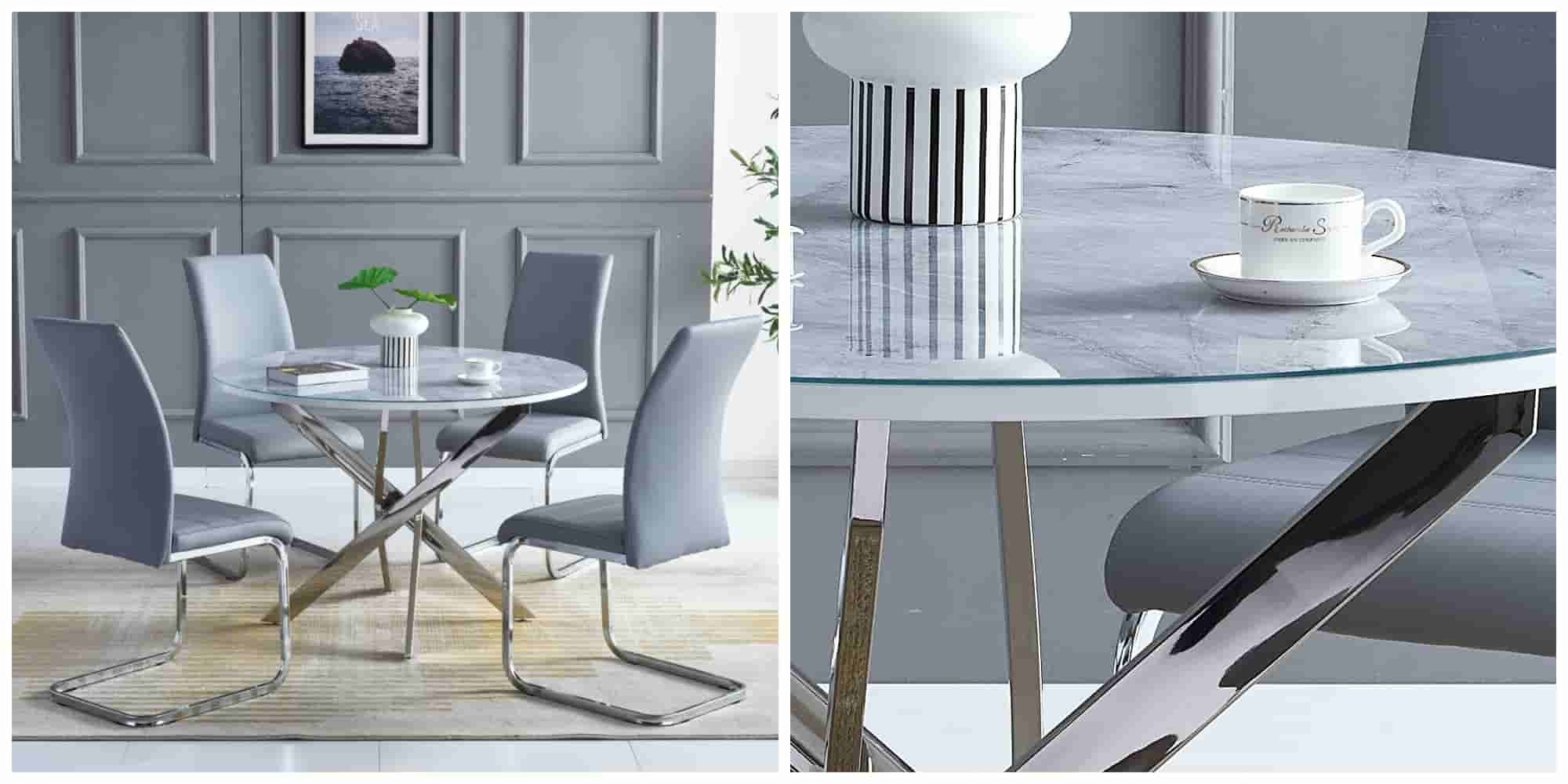 Gloriously modern, the Marissa Dining Set juxtaposes the natural pattern of grey marble with sleek polished metal. The soft contours of the round tabletop are mirrored in the streamlined curve of the cantilevered chairs while the sharp angles of the crisscrossing legs create intrigue and appeal. The Marissa Dining Set is the ideal choice for smaller spaces, it has a smaller footprint than its square or rectangular counterpart making it ideal for open plan and enclosed spaces alike. Round tables also lend themselves well to fitting in extra seating, perfect for when the table needs to transform from everyday dining to entertaining guests. The Marissa dining table's innovative pedestal design makes for comfortable seating and allows its four chairs to tuck snugly underneath the table, saving on space without compromising on sophistication. 
Rochester Dining Set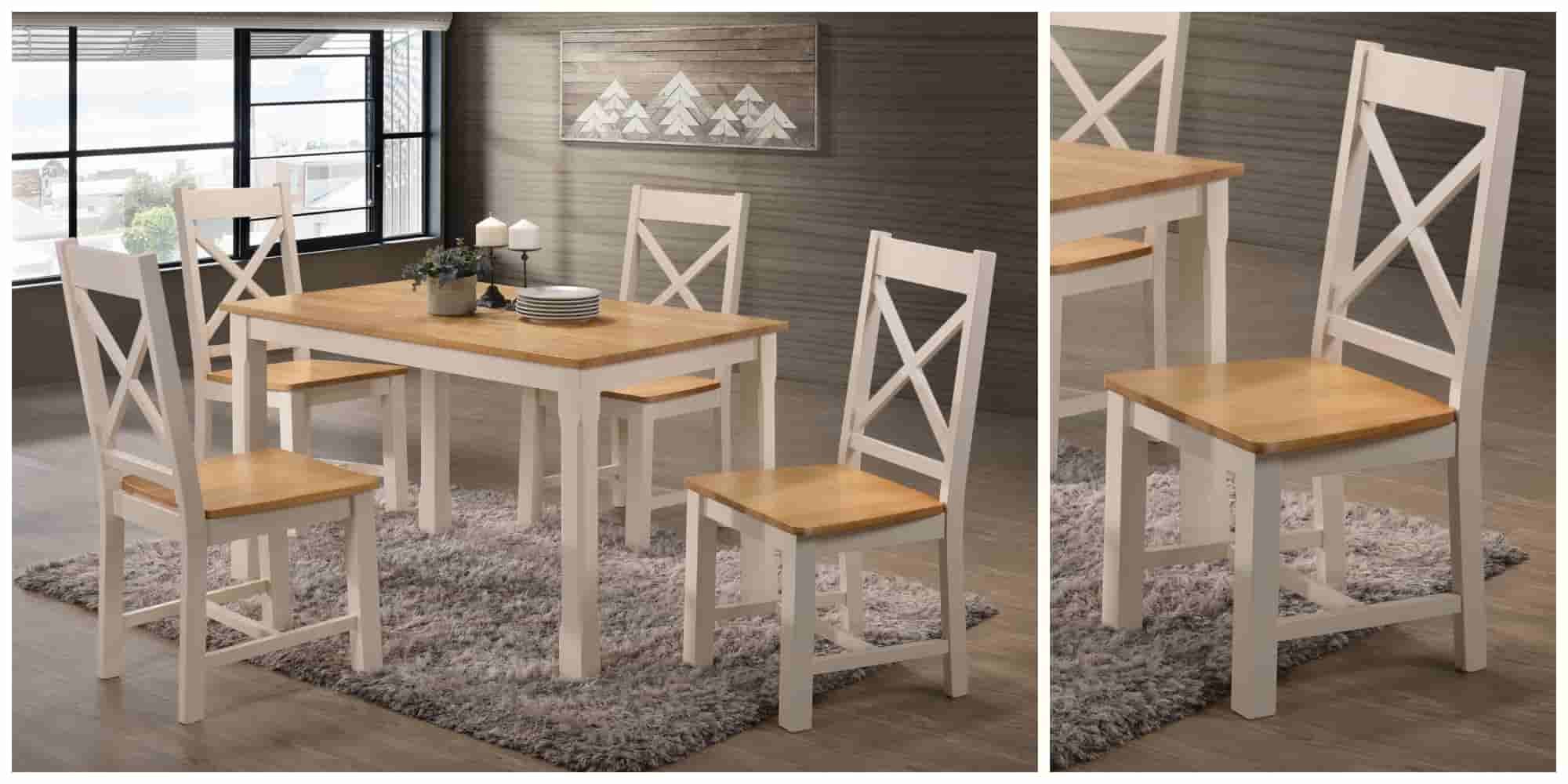 A contemporary take on the country-style dining set, the Rochester Dining Set jettisons itself from rustic to refined. An uncomplicated table design is complimented by tasteful crossback chairs. Featuring soft grey painted elements balanced by the warm tones and natural grain of oak tops, this dining set successfully blends a homely feel with upmarket characteristics. A refined dining set sure to bring a subtle modern dimension and become the heart of your kitchen, dining or living space.
Raffa Dining Set
For a dining set with a serious contemporary edge, look no further than the charismatic Raffa Dining Set. A focal point in any space, the crisp lines of the refined ceramic top are accentuated by the bold black metal crossed legs and base. Exceedingly comfortable chairs upholstered in grey PU leather material with channel tufting detail enhance the luxe feel of this stand-out dining set. The ceramic tabletop is scratch and shatterproof and stain and scratch resistant, making it the perfect material for use by children and adults alike. A blissful combination of design finesse and luxurious detailing makes the Raffa Dining set a showstopper in both looks and functionality. 
Carmen Oak Dining Set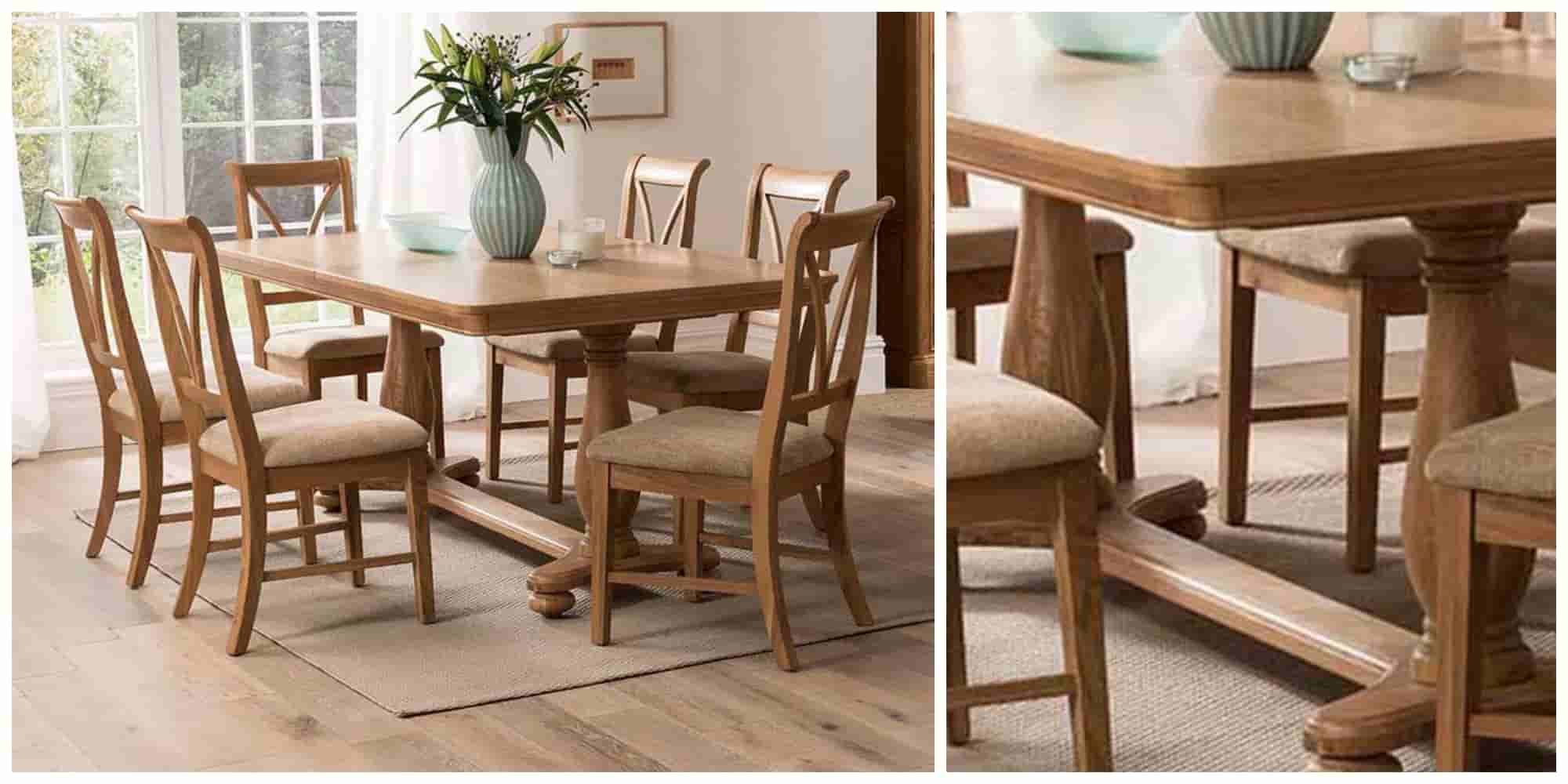 Traditional doesn't have to mean tired when it comes to choosing a new dining set, sometimes classical is the perfect choice. The French-inspired Carmen Dining Set exudes elegant charm. Crafted in solid oak and oak veneers, its flowing lines, rich wood tones and cushioned fabric seats create a soft and inviting aesthetic. Undeniably a statement piece, the Carmen Dining Set brings timeless beauty and compliments a wide variety of interior settings. It's destined to be the welcoming heart of the home, where meals are shared and memories made.
Channeling memorable get-togethers and everyday adventures, around the dining table is where life happens. Whether you choose to keep it classical or to venture into the world of contemporary design, each of our top picks of dining sets are statement-makers in their own right. Enjoy choosing the dining set that's the perfect match for you!