Wonder Walls – take your garden boundary from banal to blockbuster
Sometimes we're so lost in the joy of what's in the garden that we omit to consider what surrounds the garden, forgetting that the appearance of the walls and fencing that enclose our outdoor area can have a huge impact on the overall ambience of a space. Lending them the same consideration as you would the planting or the garden furniture can be a gamechanger. Break free from boring boundary walls with our guide to creating the perfect exterior backdrop…
Make that fence fabulous
If a fence demarcates your outdoors space, more than likely it has the natural appearance of wood or it has been stained one of a multitude of browns. Opting instead for a deep grey or black fence stain or fence paint can transform it from utilitarian to unique. These rich, dark hues are the perfect accent for lush planting, allowing zingy greens and fabulous florals to steal the show. Create change on a budget with Ronseal Fencelife or Cuprinol 5 Year Ducksback.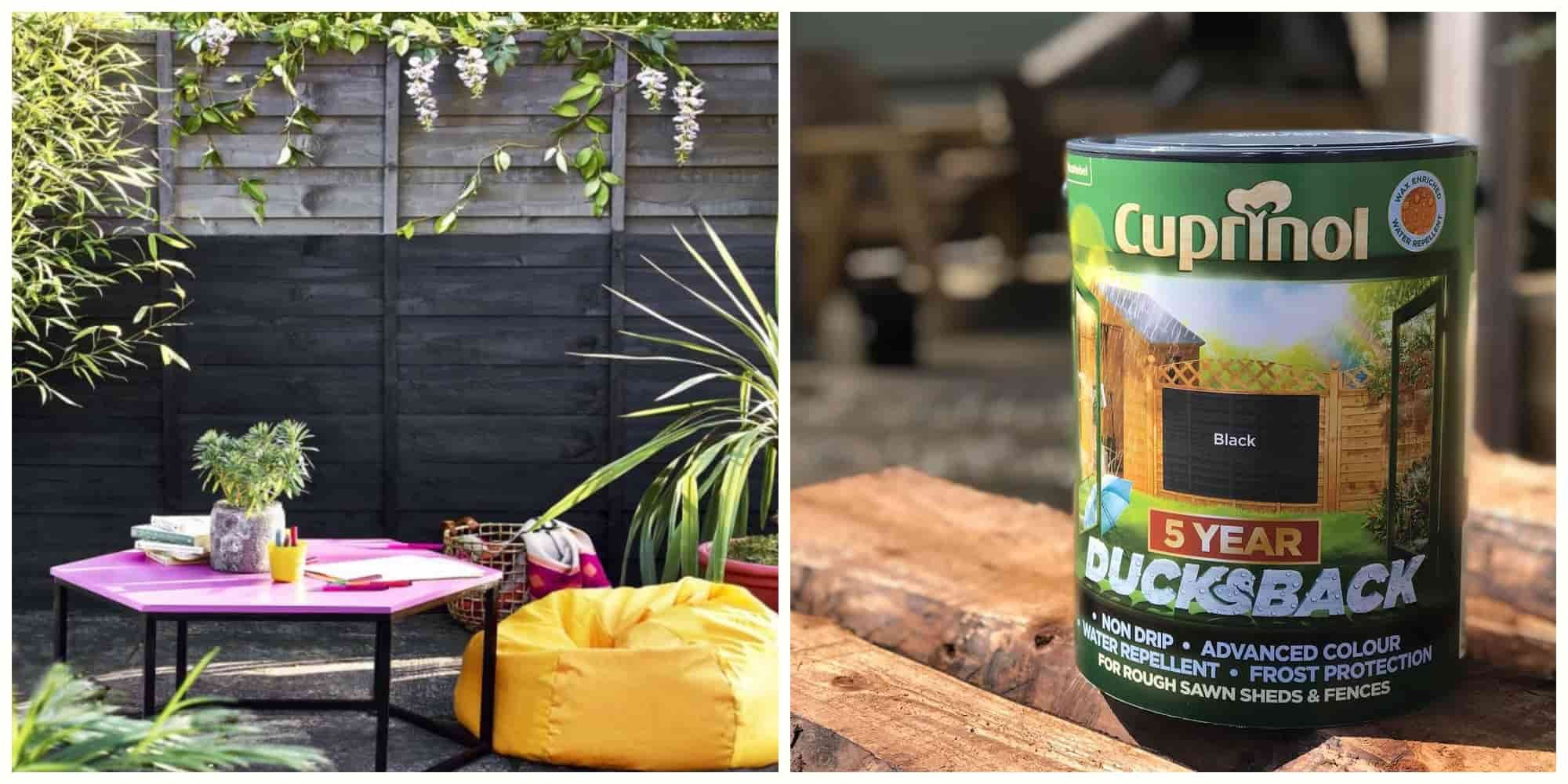 If black and grey don't suit the energy of your garden and utilising a colour is more in keeping with your style Ronseal FenceLife Plus boasts a delightful collection of colours, chosen to uplift and compliment garden spaces. Teal and Midnight Blue are shades that work wonders to transform shabby fencing into fabulous fringes.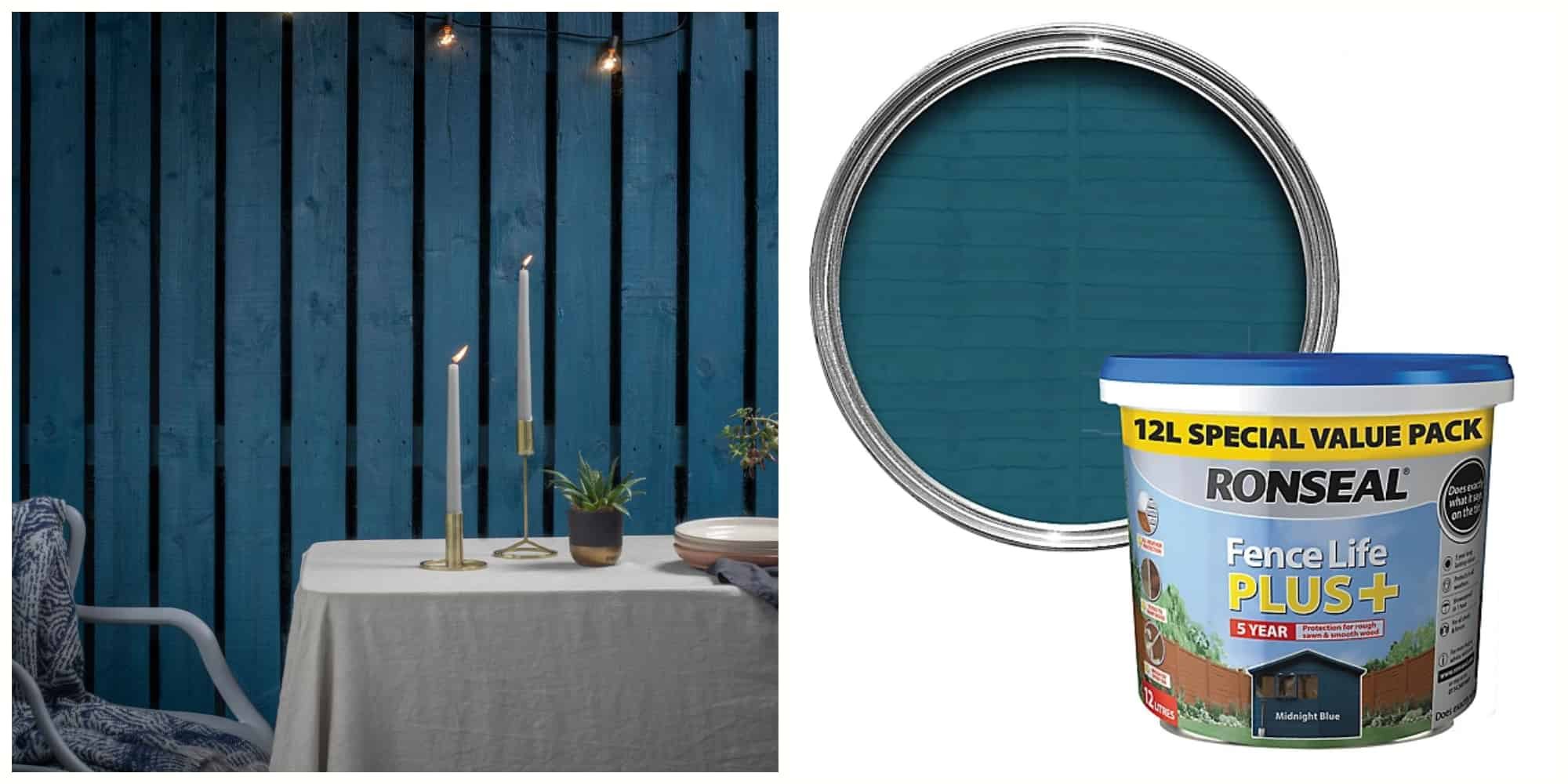 Pick up a paintbrush
Using paint to transform a surface from dejected to designer is quick, cost-effective and customisable. The days of masonry paint being limited to colours from the exterior paint collections are long gone – masonry paint in any colour is possible thanks to the extensive paint mixing potential of our trusty paint machines. 
Choosing a paint colour for your boundary walls which compliments existing features such as the colour of your house, your patio, decking and planting can tie all these separate elements together into a considered and cohesive scheme and inject fresh life into your garden space. Ronseal Garden Paint can be used to revamp or disguise wood, brick, terracotta or metal.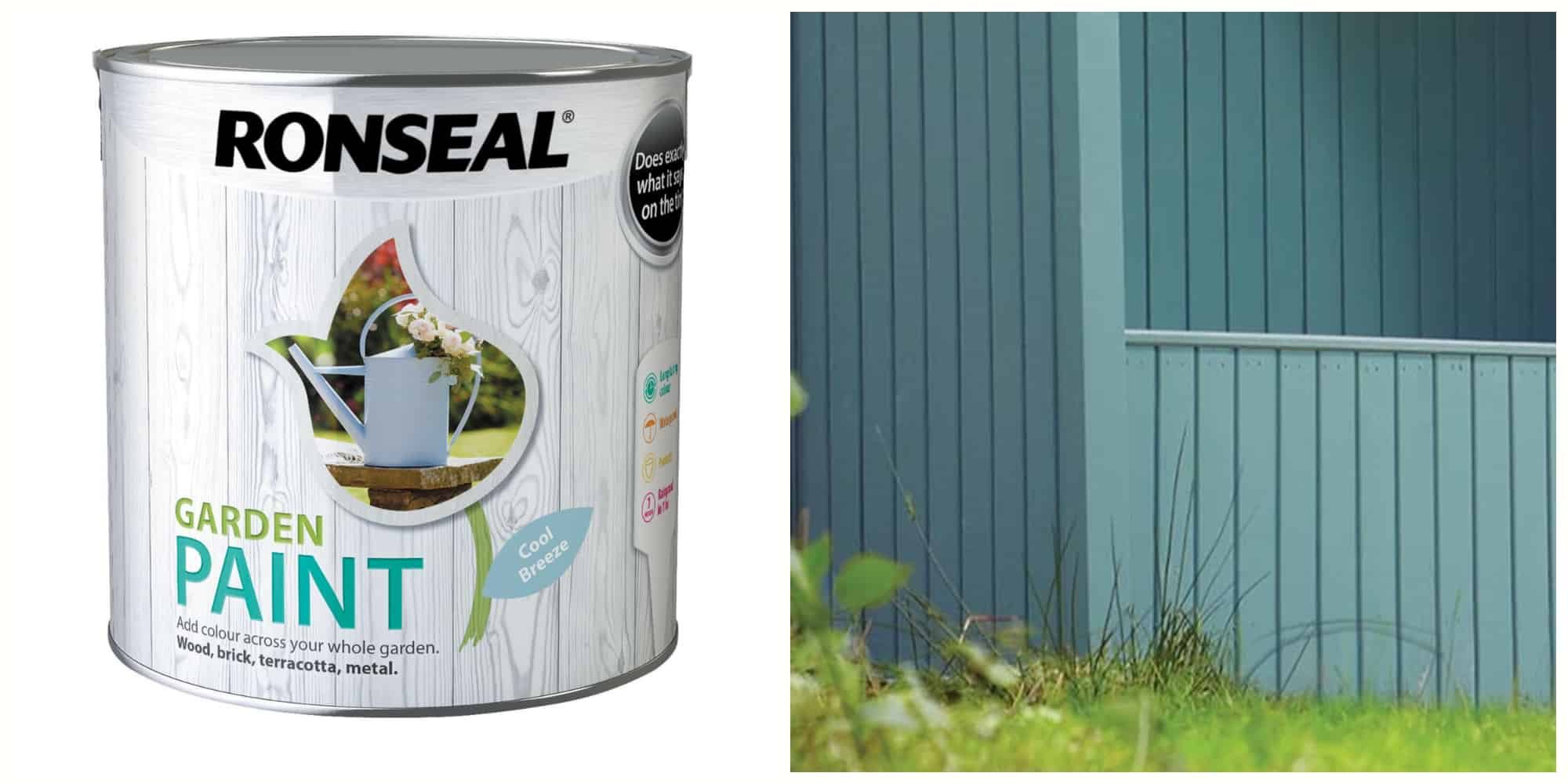 Alternatively, create a striking focal point with an infusion of carefree colour on a feature wall. Draw the eye and excite the senses with a splash of bold colour sure to emphasise the radiant sunshine of summer and bring joy in the darker days of winter. A wall of zingy lemon yellow, spicy orange or hot pink can create a captivating central backdrop to your garden.
Evoke the ambience of treasured holiday memories and infuse your outdoor space with the colours that transport you to another time and place. Usher in Grecian vibes with blue and white or embrace the warmth of Morocco with a rich terracotta, it's truly amazing how powerful colour can be.
Marvel at a mural
The transformative power of a mural can't be underestimated. A painted mural can bring bold or delicate colour, abstract shapes or figurative designs and instill a truly unique element of artistry into your garden space. A harbinger of joy throughout the year, a mural breathes new life and energy into a garden. So why not take the plunge and let your creativity run wild?
And now your walls and fences have been given a makeover, it's time to get decorating to take them to a whole new level! 
Transformative Trellises
Cultivate visual interest with a garden trellis. Whether used as a framework to support climbing plants or as a decorative feature in its own right, a trellis adds extra oomph to your walls and fences. Smart Garden's Heavy Duty Expanding Wooden Trellis is a great choice in this respect.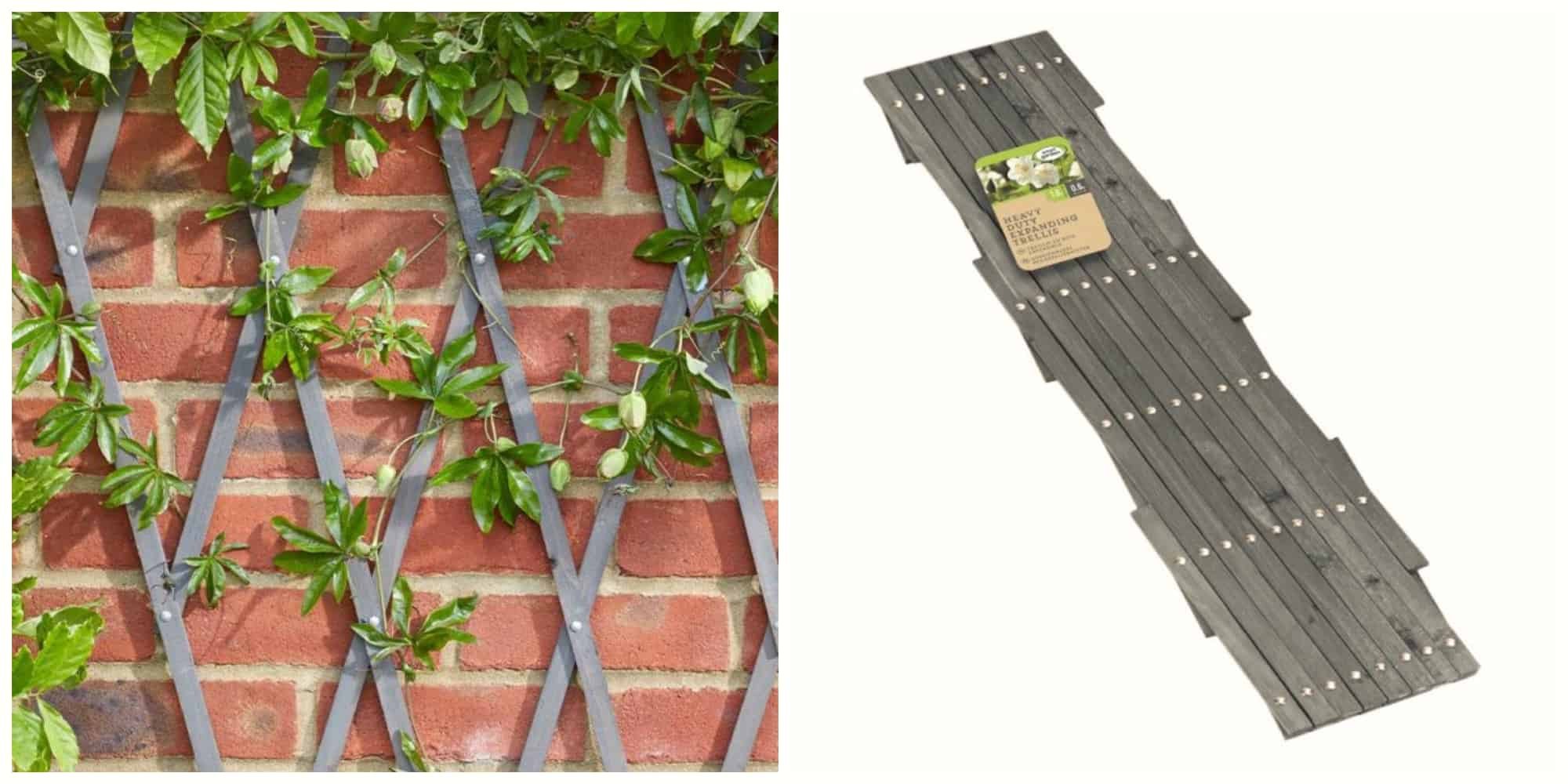 Slick Screening
A topiary style screen brings glorious green and transformative texture to a garden. Easy to install and highly effective in covering unsightly elements of your garden, screening can immediately revamp your outdoor space. Smart Garden's Boxwood Artificial Screening Panel is suitable for walls, fences, sheds and balconies.
Faux Foliage Panels
Nothing pleases the eye more than lush planting in a garden and when that verdant foliage and flora comes with zero maintenance, well you really are living the dream! Hyper-realistic and oozing natural beauty our selection of faux foliage expandable trellises and panels transform your walls from wasteland to wonderful. Pick from Hosta Leaf, Lemon Leaf or Maple Leaf panels to embellish your garden walls with leafy luxuriance. Welcome flowers to the party with the Cherry Blossom Trellis – a heady mix of greenery and realistic powder-puff blooms. Extend the picturesque potential into the night with Solar LED Lit Trellises – panels dotted with atmospheric fairy lights, powered by the day's sunlight.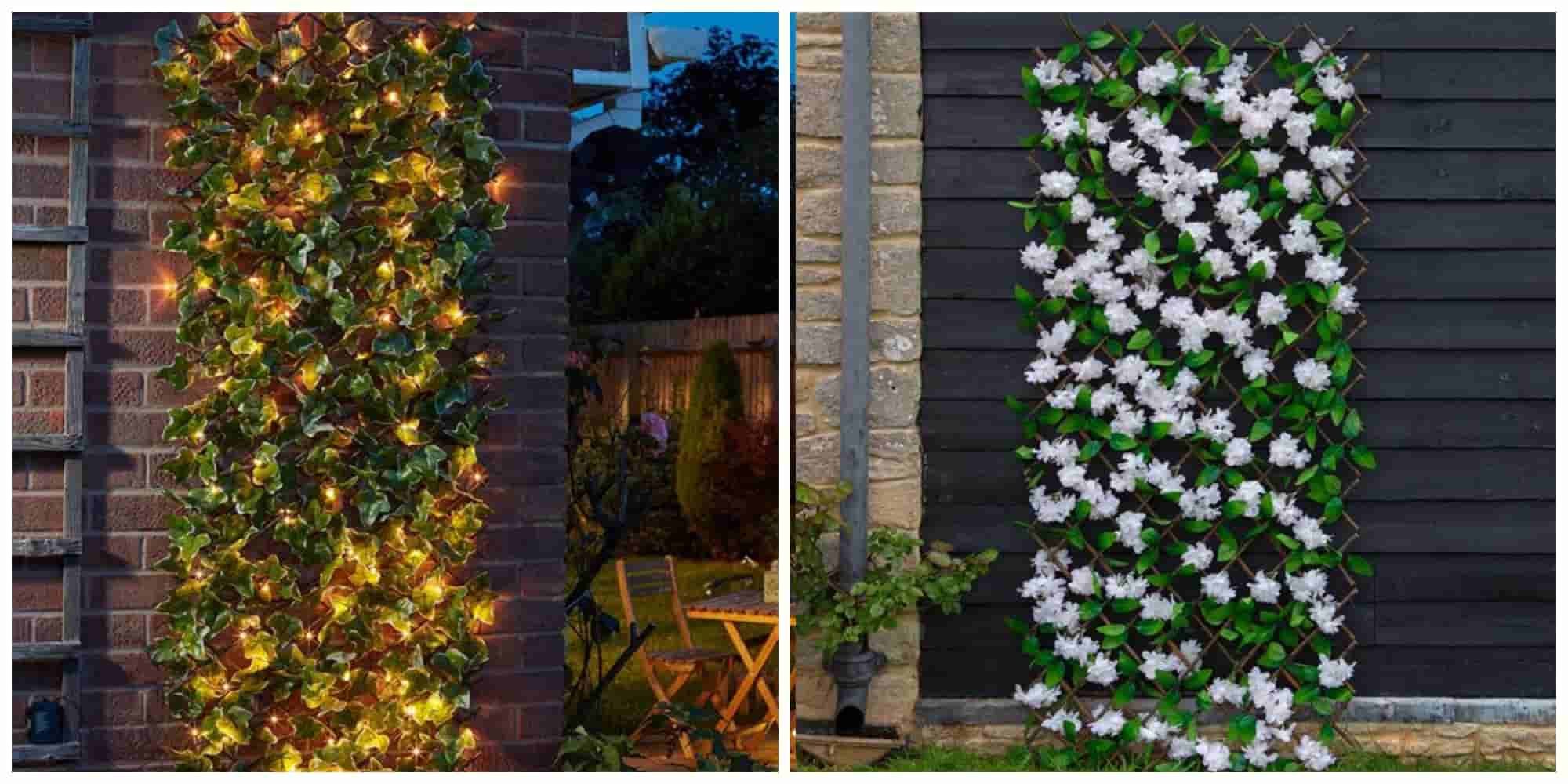 Light 'em up
Solar powered lights are a fantastic addition to walls and fences alike, creating bursts of light, intriguing shadows and accentuating the movement of plants and grasses. Fix Solar 3 Lumen Wall, Fence and Post Lights directly to your wall or fence to create nighttime ambience, dot solar stake lights along the wall to outline your garden, trail string solar lights across walls and fences or direct Mega 10L Spot Light beams onto the wall to generate an ethereal feel.
The magic of mirrors
Add intrigue, capture reflections and give the illusion of more space by using an outdoor mirror. In gardens, mirrors create a stunning fusion of style and functionality becoming both decorative and an ingenious aid in generating a window effect, magicking an unexpected view. The Arcadia Garden Mirror creates the illusion of a palladian window. Dotted along a wall these mirrors add delightful intrigue.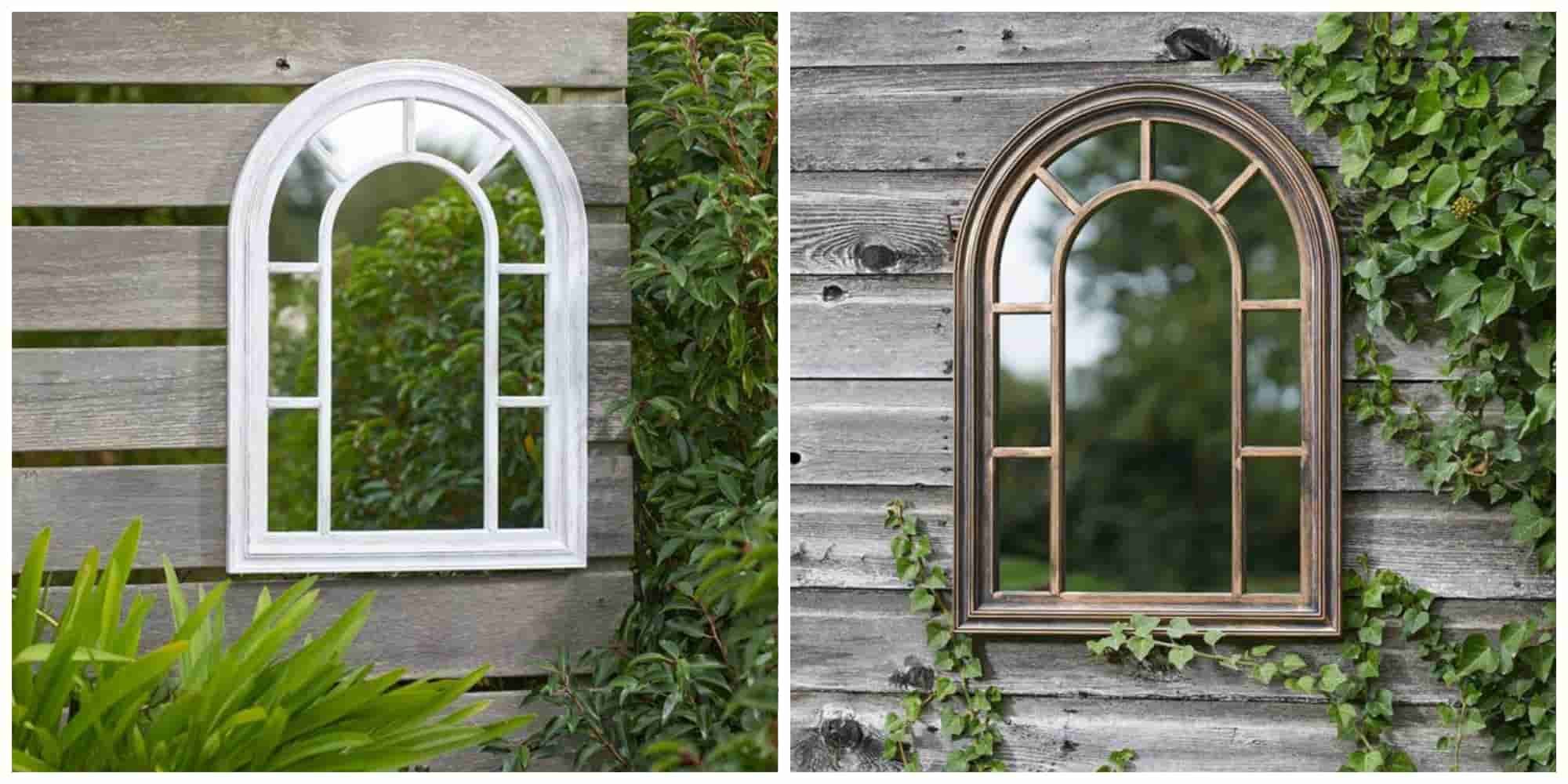 Birds & blooms 
Decoration can be more than ornamental – if you want your garden to become a haven for wildlife, embrace the potential of the vertical aspects of your garden and invite nature to take hold. Hang some birdboxes on your wall or fence, Sunnydays Wooden Bird Boxes come in a variety of joyful colours, perfect little pops of colour which have the added bonus of inviting feathered friends into your outdoor oasis. Planters and baskets too can be wall-mounted – cascades of flowers tumbling from the Oceana Faux Rattan Basket or billowing out from the Etika Planter Pot amplify the potential for planting in your garden.
And there you have it – simple ways to create and curate a garden that works on every level!