Faithfull Rechargeable Work Light with Bluetooth Speaker and Power Bank Function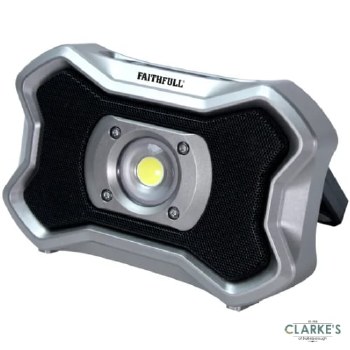 Faithfull
Faithfull Rechargeable Work Light with Bluetooth Speaker and Power Bank Function
€72.50
This Faithfull Rechargeable Work Light is ideal for a range of working conditions. Its compact design features an energy-efficient light with five output modes. A built-in wireless Bluetooth® speaker allows compatible devices to be connected, enabling music to be played anywhere. Fitted with fold-out magnetic feet and a ratcheting stand for easier placement. A four LED display on the back of the light displays remaining power. The light can also be used as a power bank to recharge devices such as mobile phones.
- Supplied with a 240V mains charger.
PLEASE CONTACT US TO ENSURE ITEM IS ON DISPLAY IN OUR STORE BEFORE VISITING.
DELIVERY TIME: For more information about delivery rates and timing please
CLICK HERE
ITEM CODE: 5023969002590
Customer Reviews
This product has not yet been reviewed.